Course Date:
Tuesday, August 18, 2015 - 16

to

Monday, December 7, 2015 - 16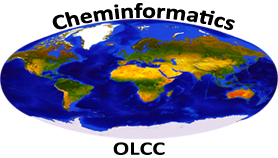 Cheminformatics OLCC: An InterCollegiate Introductory Course to Some of the Topics of Cheminformatics
Welcome to the Cheminformatics OLCC course website. Cheminformatics is a vast and complex subject as evidenced by a quick view of the symposia options in any CINF (Division of Chemical Information) program of an American Chemical Society national meeting. The Fall 2015 program has topics ranging from library sciences and information skills, to Chemogenomics, Drug Discovery, Big Data, Chemical Identifiers, Text Mining and a plethora of other topics. This leads to the tough question of what should an undergraduate level introductory course in cheminformatics teach? Clearly, there needs to be multiple introductory cheminformatics courses that focus on specific areas of this complex domain.
Classical cheminformatics evolved out of the pharmaceutical industries, in silico medicinal chemistry, the ability of computational software to predict chemical properties and the needs to manage large chemical data sets. As the amount of data evolved new forms of scientific discovery in line with Microsoft Research's Fourth Paradigm of eScience evolved, and today, cognitive scientists could state that cheminformatics is changing the fundamental cognitive artifacts used to represent, manipulate and communicate chemical information. The world of big data is here, and the focus this particular cheminformatics course has taken deals with providing students an understanding of the nature of digital chemical data, and how to connect the workflow of practicing chemists to the infrastructure of online chemical data repositories.
This course is currently being offered at 4 universities, in the Fall of 2015.
Table of Contents
1a: Finding Information for Research in Chemistry
1b: Collaborative Citation Management
2: Information Science for Chemists
3: Data Management Best Practices
4a: Communicating Chemical Structure with Formulas and Names
4b: Communicating About Chemical Structure on Computers
5: Chemical Identifiers
6: Comparing and Searching Chemical Entities
7: Representing and Managing Digital Spectra
8: Interacting with Databases: Desktop and Web Based Applications
9. OLCC Project Discussions
Course Schedule at a Glance:
Week/Module of:
1. 8/17 Module 1: WVU, UALR, Finding Information for Research in Chemistry - Li & McEwen
2. 8/24 Module 1: UNF joins -Li & McEwen
3. 8/31 Module 1: Centre joins, add Collaborative Citation Management - Li, McEwen & Shorb
4. 9/7 Module 2: Information Science for Chemists - Chalk
5. 9/14 Module 2: Information Science for Chemists - Chalk
6. 9/21 Module 3: Data Management Best Practices - Briney, Li & McEwen
7. 9/28 Module 4a/4b: Communicating with Chemical Formulas and Names - Hepler-Smith & McEwen
8. 10/4 Module 4b: Identifying Chemical Compounds on Computer - Hepler-Smith & McEwen
9. 10/12 Module 5: Chemical Identifiers (UALR/WVU have 12/13 off) - Kim
10. 10/19 Module 5/6: Chemical Identifiers/Comparing and Searching Chemical Entities - Kim
11. 10/26 Module 6: Comparing and Searching Chemical Entities -Kim
12. 11/2 Module 7: Representing and Managing Digital Spectra - Chalk
13. 11/9 Module 8: Interacting with Databases: Desktop and Web Based Applications (UNF has 11/11 off) - Lang and Cuadros
14. 11/16 Module 8: Interacting with Databases: Desktop and Web Based Applications - Lang and Cuadros
15. 11/23 Module 9: (Projects/Special Topics) Thanks Giving (WVU has whole week off)
16. 11/30 Module 9: (Projects/Special Topics)